Stella Bean is a rockstar.  She is an absolutely gorgeous, sweet, cuddly and perfect 3.5 year old, who will steal your heart.  Stella cannot walk and wears a diaper, but she acts like she has wings in her custom wheelchair.  Her spirit and joy are inspirational which may be part of reason, she has an army of fans wherever she goes.   There is a lot involved in taking on Stella Bean but to the right home, it will be clear that this is nothing compared to getting to live with this extremely special Frenchie.  Stella cannot go to any home that is not deeply committed to the extra care she needs and may continue to need for the rest of her life.
The CFBR paid for her IVDD surgery last Thanksgiving afterthe owners surrendered her because she became paralyzed in her rear.  After her surgery, she was given a 50% of ever walking again.  After the surgery, she had no deep pain sensation in her back legs.  She is now on the cusp of walking.  Stella Bean can stand on her own and is starting to move her legs, but cannot control or place her feet or knees yet. In 2019, Stella Bean had TPLO surgery on her knees. Her recovery is a bit slow, or fast, depending on how one looks at it.  But in order to have a chance of walking again, Stella Bean needs a home that will be deeply committed to continuing her rehabilitation and exercises.
With the help of a dedicated team of rehabilitation doctors and techs at VSC, and CFBR, she has received weekly electro-acupuncture and laser treatments.  She has also been working with a top rehabilitation expert, who makes home visits to have exercise and laser sessions with Stella each week.  Stella Bean's foster mom performs rehab exercises with her several times a day (it is absolutely critical that this continue).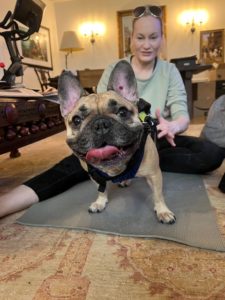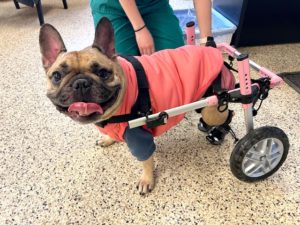 There are some of things the ideal home must be willing to do:
1) She needs to have her diaper changed at least every 4-5 hours during the day. During this process and in cleaning her, Stella is able to express her bladder herself;
2) Daily rehabilitation exercises consisting of sit to stand exercises and somewhat assisted standing
And foot placement exercises at least 2-3 times a day for at least 5-10 minutes at a time;
3) She has to picked up carefully so that her spine is kept level and straight;
4) She should continue with the rehabilitation specialist's visits at least once every 2 weeks;
5) She should periodically see her rehab vet for evaluation and to make sure she does not have any UTIs.
6) As long as she wears a diaper, she will need a supply of baby-wipes, Huggies diapers in 5T, pee pads, diaper cream and special antiseptic wipes.  She has two diaper harnesses that hold her diaper in place and can be washed periodically.
Stella Bean knows that being drop dead gorgeous and sweet and smart, she should not have to share her adoptive owner's attention.  She is the jealous type and must be an only dog.
Stella is allergic to chicken and poultry but loves salmon and sardines and freeze-dried Steve's Real Food.  She is highly food motivated and smart so she can learn very quickly.  She does all her rehab exercises for Charlie Bear treats and primal's salmon treats (her favorite).
Stella loves to go for car rides and is looking for adventures.  She loves her special dog seat that fits on the passenger seat.  She also has a special stroller that she appreciates being taken for walks in.  She has a special harness that goes on and allows for her to be strapped into her wheelchair-be prepared to run, because Stella can run in FastCAT in her wheelchair.
When at home, she needs to be kept, when she has to be alone, in a pen that has carpeting or yoga mats for flooring.  She should not and cannot, stand on hard wood floors.  That said, she does well in a crate and adjusts to being left alone for short periods of time with the TV on.  Even when she hopefully learns to walk again, she should not be made to climb or descend stairs or steps.
Stella is very friendly has not met a stranger.  She is not, however, interested in meeting other dogs…it is possible, Stella does not see herself as a dog at all.
It will be difficult for her foster mom to part with Stella Bean but Stella deserves to be an only child to a home that will quite frankly, win the lottery when they get her.  Stella Bean is pure joy and lightness.  This is an extremely special girl is so many ways.
If you think you are ready to open your hearts and home to a very special girl who does have special needs- you won't be sorry. Once you get your routine down- she is pretty easy to take care of and will in return give you tons of love. Her adoption fee is $650 -she is up to date on all of her medical care- spayed and micro chipped. With the right owner dedicating themselves to her care- she may actually be able to get to the point of not needing her wheelchair but in the meantime- she is speed racer when she is in her cart. If you think you are the ideal forever home for Stella- please apply on our website.