The Perfect French Bulldog
Stella Bean has an enormous heart filled with love for everyone she meets. She would make a great therapy dog! She is a drop-dead gorgeous 3.5 year old French Bulldog, whose smile (she does actually smile-especially if you snuggle her under her chin)- will absolutely melt your heart. Stella Bean's favorite thing in the world is to be loved on and cuddled. She has the most beautiful and soulful eyes. Seriously-this is a seriously good looking French Bulldog. But Stella is more than just her looks, she is very smart and perceptive. It is difficult to put in words how enchanting Stella Bean is.
Stella loves cars rides and going everywhere you go. She has absolutely never met a stranger. And though she needs a wheelchair to get around, she is the easiest dog to take care of in my home filled with three other dogs.
First a bit of pertinent history-The CFBR paid for Stella's IVDD surgery last Thanksgiving after the owners surrendered her because she became paralyzed in her rear. After her surgery, she was given a 50% of ever walking again. After the surgery, she had no deep pain sensation in her back legs. She can now stand a bit and with enough time, some easy exercises, and loving care, she will probably walk once more. But if by chance, she does not walk again, it will not bother her in the least. I know this sounds strange, but I have learned from Stella Bean, as I have learned from all the dogs who I have been privileged to know, that dogs do not sit around feeling sorry for themselves or spend a second, like we humans do, thinking about what they don't have. Stella's spirit and happiness will fill your heart and home with joy. She is in no pain, and as such not bothered in the least that she cannot quite walk yet. She gets around just fine -but when she is put in her wheelchair, she is 100% Danika Patrick-so keep up if you can.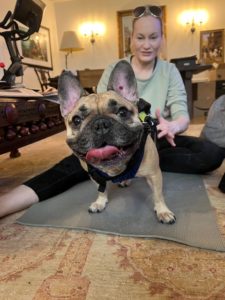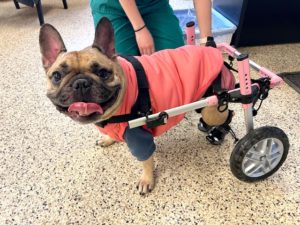 When I first thought about fostering Stella Bean and knew that she could not walk and would wear a diaper-I was intimidated because I did not know what it would entail. The realty is much different. Think of all the walks in pouring rain or cold Chicago February mornings, you won't have to take with Stella Bean. It takes less than 2 minutes to change her diaper. What is more, Stella Bean genuinely loves her wheelchair and all the rehab doctors and techs' amazement, took to it within her first 15 seconds in it! She is super-fast and agile and HAPPY.
Stella is well crate trained and has no issues with separation anxiety, unlike my 4-year-old spaniel. In every single respect, Stella Bean is easier to take care of. When she cannot be with you, she is perfectly content being in a pen with yoga mats or carpeting instead of bare floors.
If you do decide to adopt this extraordinary girl, be prepared for the fact that she will have an army of fans wherever she goes. You cannot not fall in love with Stella Bean, it is impossible-everyone who meets her, invariably does. Stella is also very adaptable and basically up for adventures. I cannot quite describe the joy you will feel in driving her around in her special booster seat and watching her Frenchie ears take in the world around her. Stella Bean is lovely and there is so much personality and spirit to her-her handicap is the least significant thing about her.
Stella does well with small dogs but not large dogs and an ideal resident dog for her would be one who is laid back -as she can be a tad bossy sometimes. Or she would be just as happy to be an only pet in her forever home.
Stella is up to date on her vetting and is spayed and micro chipped and her adoption fee is $550.