Cats: Yes 
Dogs: Loves other Frenchies preferably 
Children: 8 and older 
House trained: yes 
yard not required 
This cuddle bug is 4 years old and will melt your heart with his beautiful brown eyes, it's like he's looking into your soul. Sonny came from a breeder. I can tell you from being his foster family he came to us the same day after being neutered and several teeth pulled and he didn't have a single complaint, all he wanted was to sleep and be held. 
He walks very well on his leash and goes out several times a day due to my schedule being flexible.  He is fine and content in his kennel and can hold it but will urinate if bedding is in there with him.  He likes fuzzy toys and is not a big food motivated dog – you can almost say he's a "lil picky".  
Sonny does like to sit next to and on you along with having his belly and bottom gently scratched.  We're working on sit, so basic commands and training should be continued.   As he's getting used to being a pampered pet, just having patience and understanding that he is truly a gem, he will open up and give your home and family love right back.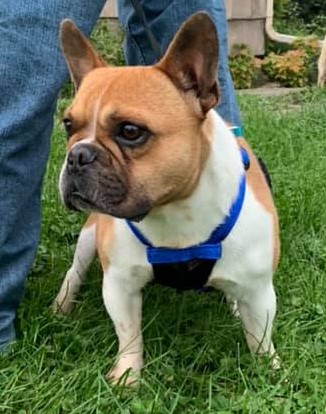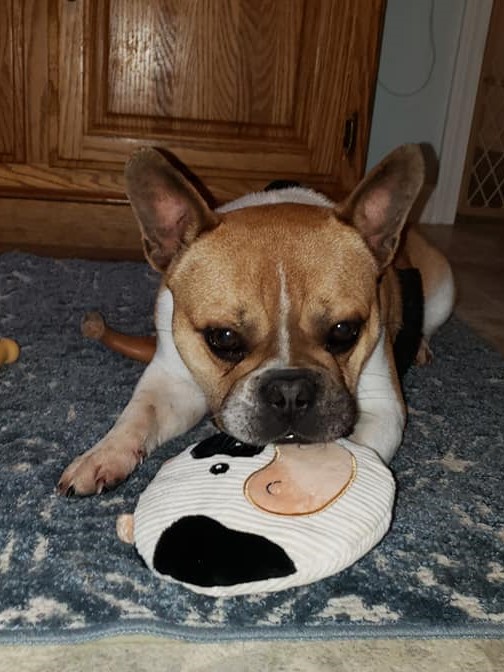 He gets along with our cat and they even share their water bowls together.  He has met other dogs without any apprehension and is an additional pillow in my sons' beds.  Sonny has no problems with bathing, tooth brushing or handling at home or the vets' office. 
Adopt him, love him and give this lil nugget his forever home and your hearts.  Once he leaves our home and care, he will be missed but that's the joy of rescue – giving your heart and time to an animal that has not known what people who care can do.  He will forever be a member of my family and I look forward to him being a part of yours.
If you think you are the ideal forever home for Sonny-  please complete our on line application-his adoption fee is $650 and includes his recent dental- neuter- micro chipped- vaccines current- his bed-leash and collar along with some of his current food.  

If you don't live in Chicago or nearby to Chicago- please reach out to us through our social media pages either on FB or IG to see if you are in an area we currently adopt to- we only adopt out of state if we have someone we know and trust to do a home visit and if approved, the adopter will be expected to come to us to finalize their adoption. We do not ship or allow others to transport for a potential adopter nor do we allow dogs to fly in cargo areas of planes.