Adult: 7 tears old
Children: only if 8 and older
Cats: yes if dog savvy- as she will chase them from time to time
Other dogs: She would be ok with one other submissive dog her size or smaller
Mimi is a 7 year old spayed female. She was rescued as a breeder surrender and has had several litters of puppies over the years. She weighs about 20lbs. Mimi is a very sweet girl who would love nothing more than to lay around and snuggle all day with her human. She is mostly low energy but if you find the right toy, she will run and play for a while. She seems most interested in toys that make sounds such as squeaks and crinkle noises. If you throw a ball, she will run after it but never picks it up.  She doesn't spend much time in her dog bed as she'd much rather be laying on the couch with her human.  She has played well with several other visiting dogs while at her foster home and has shown no aggression however if her adoptive home already has dogs, she would probably do better with submissive, low energy dogs.  She does well in her crate and is kenneled at night time while sleeping and while home alone during foster moms 6 hour work shift, anything longer than that she would need a dog walker to take her out. She has never had an accident in her crate. She lives with two smaller children in her foster home and while she loves them and plays well with them, when she's in snuggle mode with one of her humans she has shown some protective behavior. A bit of growling and an attempt at a nip was noticed early on in her stay at her foster home but nothing recently. Kids 8 and older who are aware of and respectful to her boundaries would probably be best for Mimi. She lives with two cats in her foster home. 80% of the time she ignores the cats but occasionally she will feel brave and bark and chase them, so any potential cats in her adopting home would need to be dog savvy. Mimi is mostly potty trained and does very well with a routine but if you miss her signals she doesn't give you a second chance and will sneak off to potty somewhere. Mimi rides in the car very well. She doesn't seem to mind rides at all and curls up and naps most of the time. She is a pretty lazy gal and isn't fond of long walks but can handle a couple blocks at most. She does well on the leash so a fenced in yard probably isn't necessary, but she would need to always be on a leash if you don't have a fenced secured yard. She loves to be right by her human and has never wandered too far. She handles a few patio stairs like a pro but seems scared of the set of stairs leading to the basement. With practice she could probably handle the stairs. Mimi eats canned foods very well and loves treats. Transitioning her to dry kibble has been a struggle. She prefers canned food.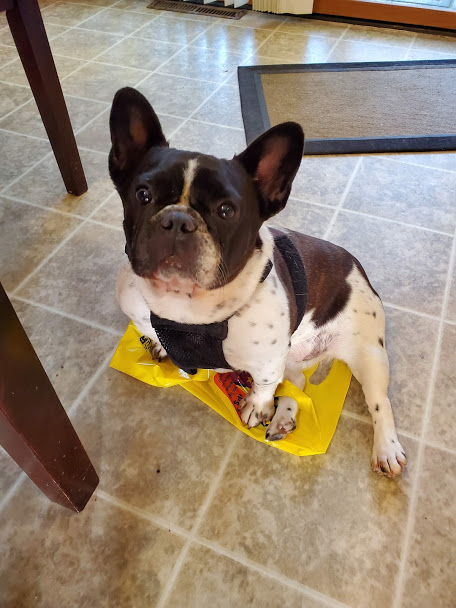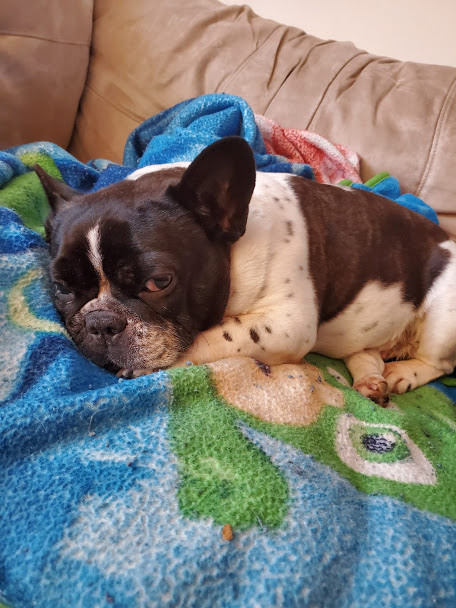 Adoption fee is $350 and she is spayed- had a dental- micro chipped- heartworm and fecal tested negative- up to date on her vaccines. She also comes with some of her current food, a bed- leash and harness.
Mimi would be ideal for a retired couple who is looking for a love muffin to cuddle up with and get lots of love.